Written by Daniel Neiman | St. Louis Post-Dispatch

And now comes the regret.
Did I really have to have the second piece of pecan pie? Couldn't mashed potatoes contain less butter? Did I really have to eat all that mint chocolate our friend brought from Chicago?
Yes. Yes, I did. These things are wonderful.
But I feel it now: every birthday cake, every potato pie, every mint of Frango. My belt annoys me. My size groans when he sees me getting close.
And in the spirit of my New Year's resolutions, I decided to make a batch of dishes that would make my belt and balance happier, and me too. I went low calories.
Naturally, I didn't want to give up the flavor and the fun. I resolved to make dishes that tasted good and were relatively good for me – or at least good for my waist.
I started with a talk about an old favorite, Carbonnades a la flamande, the famous Belgian dish of beef and onion stew cooked in beer.
The difference in the version I made is that the beer used is stout, a dark beer like Guinness that is rich in coffee and caramel flavors. Despite its full flavor, beer has a few more calories than pod lite. And its taste is so subtle, it needs less brown sugar than traditional carbonation to soften the soup.
The recipe uses less beef than regular carbs, which cuts down on the calories. But you don't mind the loss, as it makes up for it in a chunky mushroom that blends perfectly with other flavors.
It is a creamy, warm stew with a strong flavour. You don't even notice the flavor of the beer, which melts into the sauce for a perfectly satisfying meal.
The next dish was also interesting: lemon chicken with bulgur. Bulgur is one of those cereals that I rarely think of using while cooking, and I'm always happy whenever I use it. It has a similar nutty taste to brown rice, but has a creamier texture and a more subtle texture.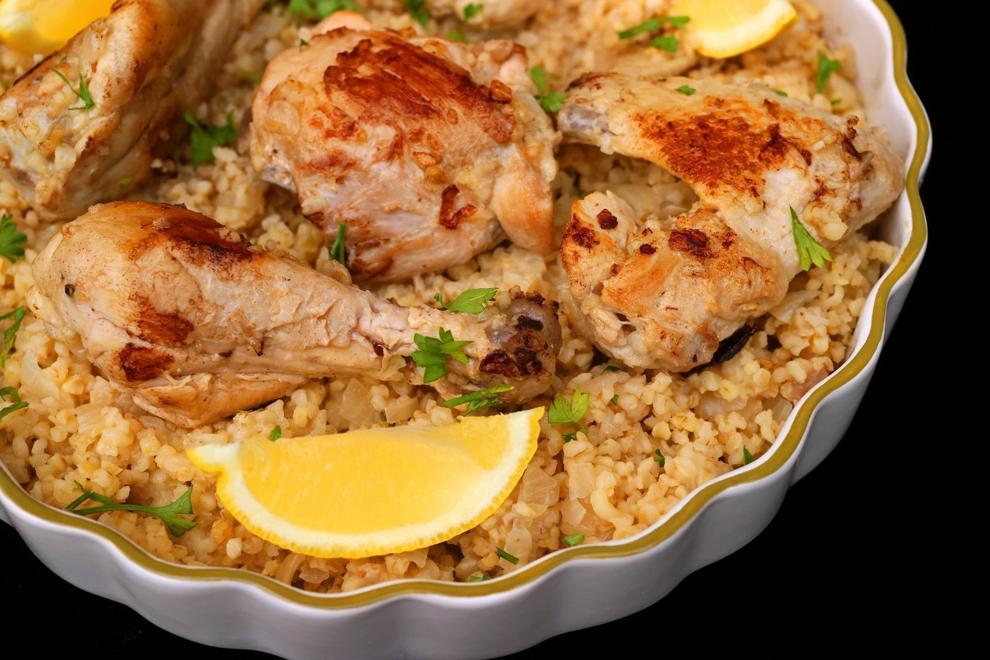 It also happens to go well with chicken – especially, I found out, with lemon chicken.
The recipe includes a few unexpected but delicious curved balls. Mix with the other ingredients (onion, garlic, lemon) half a teaspoon each of cardamom, coriander and cumin.
Indian spices are subtle, but you know they are there. It acts as a quiet soundboard to amplify the bright citrus notes of lemon. They make what is already a great dish even better. Sure to join your repertoire, so is the Braised Beef at Stout Beer.
Thus, in connection with this matter, the Turkey is Wienerschnitzel.
The flavor of turkey is similar to veal which makes it a reasonable alternative; I even know a chef who used to cook turkey in his restaurant and jokingly called it "retarded veal".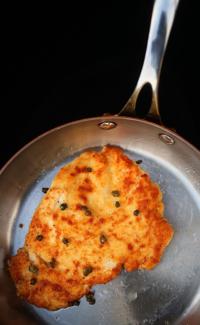 Veal is hard to find these days, and expensive when you see it, so Turkey Wienerschnitzel would be a great idea even if it wasn't very tasty. Based on the classic Austrian dish, it is turkey cutlet, rusk and lightly fried, served with capers and lemon slices. The fried egg on top tastes great too.
Created by Stephen Reichlin in his pre-roast days, this version saves some calories by dipping the turkey in egg whites instead of whole eggs, and theoretically requires just two tablespoons of oil to fry four cutlets.
To be completely honest, it took three tablespoons of oil to fry the four cutlets. But that's not so bad, and Wienerschnitzel was exceptional.
My latest low-calorie, high-flavor dish that takes potatoes to a new level. Bombay-style potatoes are a type of spiced potato that appears to have originated in England despite the name.
Curry and potatoes have always been a popular combination, and Bombay style usually adds tomatoes to the mix. But the version I made uses Granny Smith apples instead to add just the right amount of sweet tartness to a spicy curry.
I cheated when I made my own. Instead of compiling a homemade spice blend for curry, I just used curry powder from the jar. It was so good as it was, I can only imagine how much better it could have been if I had just taken a few extra minutes to make it.
Whether you mix up your own curry or use the store-bought variety, be sure to use Yukon Gold potatoes with this dish. Its texture is almost buttery, it tastes almost creamy, which makes the recipe come to life.
Daniel Neiman • 314-340-8133
food writer
dnemanfood on Twitter
dneman@post-dispatch.com
.